Just one pill a day treats frequent heartburn.

#1 brand recommended by Canadian doctors & pharmacists*.
Blocks acid at the source.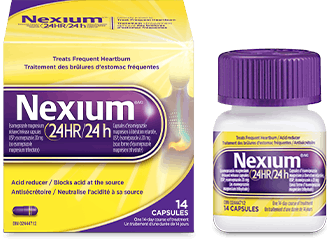 HOW TO USE:
Nexium 24HR is a non-prescription medication for the treatment of frequent heartburn (occurs 2 or more days a week). It is not intended for immediate relief of heartburn and may take 1 to 4 days for full effect.

DIRECTIONS:
Adults (>18 years): Do not take more than directed. Swallow 1 capsule with a glass of water before eating in the morning. Take 1 capsule per day for 14 days. May take 1 to 4 days for full effect. Do not take for more than 14 days or more often than every 4 months unless directed by your doctor. See package insert for repeat use directions.

HOW TO TAKE NEXIUM 24HR
Like most medications, Nexium 24HR works best when you use it properly.

Make sure to follow these helpful tips:
Nexium 24HR should be taken once a day in the morning (every 24 hours) for two weeks, so set a reminder to take your daily dose before breakfast.

Even if you start feeling better within the first few days, stick with the 14-day treatment to get maximum results.

Nexium 24HR isn't intended for immediate relief, so be proactive with your next purchase to stop acid before it starts.
YOUR SATISFACTION IS GUARANTEED.
Try Nexium 24HR and experience how just one pill a day can provide protection for your frequent heartburn. If you are not completely satisfied, we will refund 100% of your purchase price, including sales tax and shipping fees, no questions asked. See details.
*Among OTC PPIs. 2018 IQVIA ProVoice Survey.